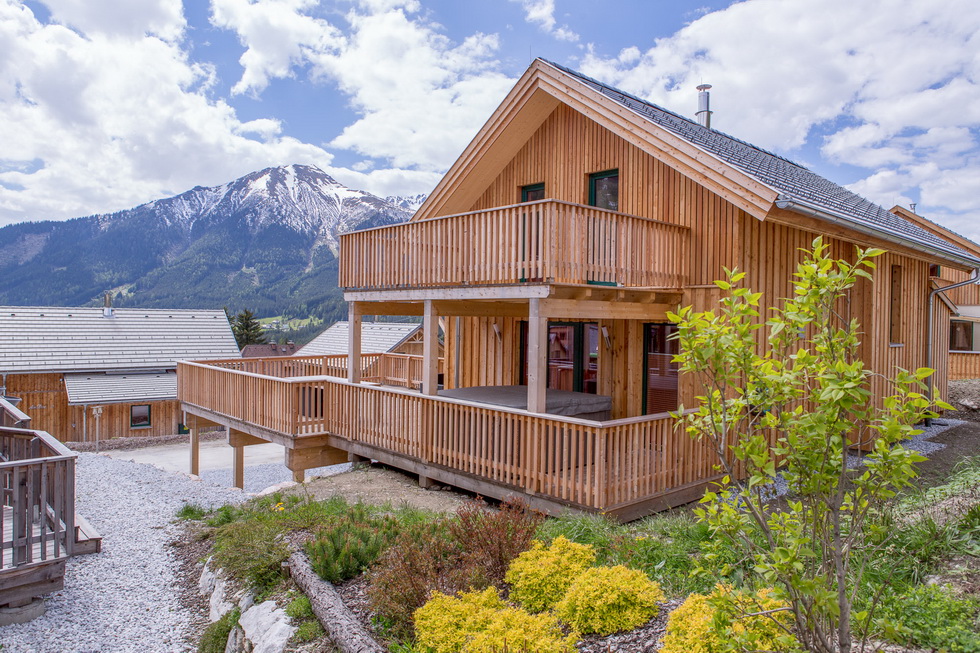 Na prodej
Samostatně stojící rekreační chaty v centru obce a vedle lyžařského vleku
Rekreační bydlení bez povinnosti pronájmu
Velký výběr z mnoha typů chat a možností úprav
Poslední fáze projektu na prodej
V případě zájmu zprostředkujeme pronájem
Cenové rozpětí:
€ 170.500 - € 395.000
Request our brochure
Continue

V centru příjemné horské obce Hohentauern (1.274 m n.m.) a v blízkosti lyžařského areálu se staví 50 samostatných chat. Projekt je bez povinnosti pronájmu, a trvalé bydlení je zde povoleno. V případě zájmu zprostředkujeme pronájem. Dosavadní výsledky z pronájmu již postavených chat jsou velmi dobré. Proto je tento projekt ideální kombinací pronájmu a vlastního užívání.

Tento projekt funguje jednoduše: Vy si vyberere stavební pozemek (ca 500 m2), a potom si zde nacháte postavit některou z chat z naší nabídky, o ploše 70, 100 anebo 115 m2. V nabídce je mnoho možností úprav a změn, každá chata tak může být zcela originální.
Dále si můžete vybrat veškeré luxusní doplňky, jako jsou: krb, sauna, jacuzzi, krytá terasa, zimní zahrada a další. Doplňky je možné objednat i později, po kolaudaci chaty.
Při výstavbě chat jsou používány pouze velmi kvalitní materiály. Všechny koupelny jsou standardně vybaveny luxusním sanitárním vybavením.
Request our brochure
Oblast
Styria is situated in the southern part of Austria and is a rugged woodland area. This region has not yet been discovered by tourists and is therefore more peaceful than other Austrian regions. You can spend wonderful holidays here combining long mountain walks and other sporting outings with culture and relaxation. In the winter Styria changes into the "white heart of Austria", with impressionable ski areas. In the summer, it is best known for its many lakes, thermal baths and the impressive Hohe Tauern mountain range. The capital of Styria is Graz. In 2003 Graz was the cultural capital. The beautiful old inner city is hailed an UNESCO area and offers monestaries, castles and museums. With in excess of 200 sunny days a year and guaranteed snowfall throughout the winter, it a perfect all year round holiday destination
Winter – The small and charming mountain village of Hohentauern is situated in a nature reserve in the Murtal holiday region away from the mass tourist market. It is a popular winter sport region consisting of 7 ski areas (15 – 35 km of piste) with a total of 150 km piste between 1200 and 2200 metres high.
Hohentauern Ski area – The resort of Hohentauern is small, has 15 km of well-prepared pistes and is a perfect place for skiers who want to enjoy "winter's pure nature" with their families. Being advantageously situated at heights of between 1,250-1,800 metres, there is guaranteed snow all winter long. As soon as it begins to snow, everything revolves around winter sport.
Hohentauern also has a Children's Paradise with magic carpet (conveyer belt), merry-go-round, fairytale forest etc. There are 11 km of tracks for the cross country skiers, 10 km of winter walking paths and a natural ice rink. The park itself is situated in the centre of the ski resort where you can enjoy downhill and cross country skiing, snowboarding, and sledging. If you are looking for more extensive skiing, you will find this only 40 km away, in the Obertauern ski area (120 km of piste at heights where snow is  guaranteed) . Closer to Hohentauern you will find the ski areas of Kreischberg and Turacher Hohe.
More info:  www.hohentauern.at. The chaletpark is of a distance of 200 meter from the skilift.
Lachtal Ski area – More mountain, more ski! The sun sends its rays over the Lachtal. High up, at 2200 m, the snow is glittering, while you are enjoying the beautiful panorama of the Styrian mountain world, deep blue the sky above you. The second largest Styrian ski resort attracts visitors with the most beautiful slopes. A total of 140 hectares of slopes at an altitude of 1.600 to 2.222 m invites all skiers, carvers and boarders. The slopes are varied – something for everybody – with a total length of 33 km. The snowboard-park at Lachtal offers two kickers of different sizes, a cornerjump and two rails. The new Wetter Pauli piste is ideal for families from the mountainstation along the Kleinlachhütte downhill.
More info: www.lachtal.at The skiarea is on a distance of 40 km from Hohentauern.
Summer – There are probably even more activities on offer for the summer visitors – swimming in a local indoor pool, tennis or even a round of golf on the 18-hole course in Weissenbach. You can also go horse riding, fishing or mountain climbing (many cycle paths and mountain bike routes). The area is a walker's paradise with more than 200 kilometres of marked routes nearby. Only a few kilometres away is the Celtic themed nature park, Keltenberg with its own Waterworld and a village built on poles. – A definite MUST for the children!
Easily accessible – Hohentauern can be reached from a number of airports. It is two hours from Salzburg and airlines offer direct flights from Birmingham, Bournmouth, Bristol, Coventry, Dublin, East Midlands, Liverpool, London, Manchester and Sheffield to Salzburg. Another option is to fly to Graz from Stansted which is a 1¼ hour drive from Hohentauern or to Linz from Stansted, a 1½ hour drive.You will find these routes and itineraries on www.ryanair.com.
Stáhnout brožuru
Pronájem a správa
Štýrsko se nachází v lesnaté a hornaté krajině na jihu Rakouska. Je to oblast pro dlouhé procházky a mnohé sportovní aktivity, v kombinaci s kulturou. V zimě se Štýrsko mění v "bílé srdce Rakouska" s příjemnými lyžařskými středisky. V létě Štýrsko láká svou nabídkou mnoha jezer a lázeňských center, s impozantním pozadím pohoří Vysoké Taury.
Malá horská obec Hohentauern leží v chráněné krajinné oblasti a je součástí rekreační oblasti "Murtal", oblíbeného zimního střediska tvořeného sedmi menšími středisky (každé s 15-30 km sjezdovek). Celkem je k dispozici 150 km sjezdovek v nadmořské výšce 1.200 až 2.200 metrů. Lyžařská oblast Hohentauern je malá, ale díky tomu je velmi příjemná a nabízí 15 km sjezdovek určených pro lyžaře, kteří si s rodinou chtěji užít přírodu i sportovní zážitky. Díky nadmořské výšce 1.200 až 1.800 metrů zde platí jistota sněhu po celou zimu.
Hohentauern v létě nabízí snad ještě více možností pro krásnou dovolenou. Nedaleko se nachází krytý bazén, venkovní tenisové kurty a v obci Weissenbach je 18-ti jamkové golfové hřiště. Můžete si vyzkoušet jízdu na koni, rybařit, na své si přijdou i amaterští horolezci. Okolí je rájem pro pěší turisty, s více než 200 km vyznačených stezek. Pár kilometů odtud najdete dobrodružný park pro děti – "Keltenberg", s vodním světem a vesnicí postavenou na dřevěných pilotech.
Stáhnout brožuru